Don Kramer was born in Seoul, South Korea and was raised in Chebanse, Il. He attended Clifton Central High School and got his BFA at Illinois Wesleyan University. He currently lives in Bourbonnais, Il with his two children, Logan and Sienna. And no.......Logan is NOT named after a comic character. Swear to God.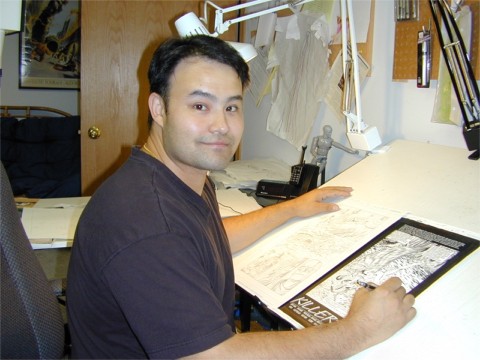 If you asked any comic book artist or writer how they got into the comics industry, you'll get a different answer every time. The only answer that probably remains the same is that we all loved reading comics at an early age. The same goes for me. For as long as I remember, I have been reading comics. I don't even remember my first comic book since it probably was given to me around the age of four. I can't be sure but I think it was a Curt Swan Superman that paired him against Captain Thunder (a flagrant Captain Marvel rip-off). From the time I was able to figure out that people actually created comics for a living, I knew what I wanted to do. I was lucky in that sense.

Around 1993, I put together my first portfolio and trotted off to the Chicago Comicon. Naturally, I was rejected by everyone but I was able to find enough independent work to keep me drawing. One indy project led to another. The pay was poor or non-existent but they kept me busy for the remainder of the 90s trying to get good enough to catch the interest of a major publisher.

Around 1998, I met Chris Golden, Tom Sniegoski and John Cassaday. All three took me under their wing and introduced me to editors and gave me hope. I began working with Tom on a collaboration titled The Janitor.

The pages I did for The Janitor got the attention of Axel Alonso, then a DC Vertigo editor. Just when he was about to give me work, Marvel hired him away from DC. Fortunately for me, he didn't forget me and when he got settled he gave me my first job, a Startling Stories one shot about the The Thing.

Just as I was wrapping up the Thing story for Marvel, Chris Golden called me and convinced me to make the leap to working in comics full-time with a Dr Fate mini-series he had slated over at DC. Peter Tomasi was willing to give me a try and I was officially working full-time in comics. Since then, I have worked on various DC titles including a stint on JSA with Geoff Johns, JSA:Classified with Pete Tomasi, a number of issues with James Robinson and Paul Dini on Batman and Detective Comics; Nightwing with Fabian Nicieza and, later, Pete Tomasi; a JSA vs. Kobra mini-series with Eric Trautmann, along with fill-ins on various titles such as Shazam and the Outsiders.

I have been under an exclusive contract with DC since 2005.

I can also be found on MySpace and Facebook.
Home



If you have any questions, comments or would like to purchase original art, feel free to email me at don@donkramerart.com